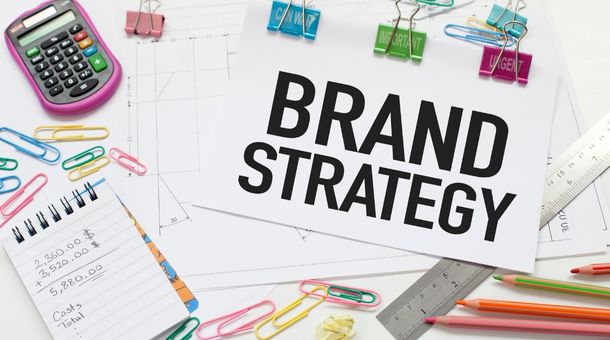 Brand Marketing Strategy will help you stand out from the rest and increase customer loyalty. Brand Marketing Strategy is a strategic approach to sales, communication, and products that promotes a company's assets.
If done correctly, the brand's power is enormous. It unites people from all walks of life to a common understanding of one company.
This article will teach you all you need to know about Brand Marketing Strategy and the essential elements that make a strong brand.
What is a Brand Marketing Strategy?
Marketing is the art of creating a brand and designing it, and establishing clear communications and marketing activities that differentiate your product from other products.
According to 2021 reports from Lucidpress and Edleman, consumers are more likely to trust brands that provide quality and contribute to the betterment of the world. You can:
Your business will grow
Reach your ideal customers
Increase your product marketing effectiveness
Market awareness can be increased
The sections below will help you understand your brand's foundation and start the process of creating a brand strategy.
Why is Brand Marketing Strategy so important?
This marketing approach focuses on building brand awareness, trustworthiness, market reach, brand recognition, and overall brand reputation. This is a way for you to market your product uniquely and memorably.
It's also a way to show customers what makes your brand stand out. Your customers will be more satisfied with the products and services you offer.
The long-term goal of brand marketing is to build loyal customers by communicating the brand's values and identity. A strong brand marketing strategy will help you stand out and increase sales and customer acquisition.
How to create a Brand Marketing Strategy
Now it's time for you to start building a Brand Marketing Strategy using the brand foundation exercises. You must be creative, systematic, appealing to customers' emotions, reason, and reflect deeply on your business goals.
Define the mission of your brand.
Your brand's mission should communicate your brand's purpose and philosophy. Below are some prompts to help you define your brand's mission.
What motivates you to create this brand for your company?
What kind of impact do you want your brand's image to have?
What emotions, sensations, and new ideas do you want customers to have?
What role can your brand play in the lives of customers? What are the outcomes your brand can drive?
Describe your brand's vision.
The vision statement of your brand is a long-term and future-oriented goal that describes what your brand will be, how it will present itself in the world, what it will achieve, and how it will do it.
Think about the possibilities for your brand's vision. It should be written as if there were no limitations or barriers that could prevent you from making it happen.
These three examples can be used as models to help you formulate your vision statement.
All children have equal access to education
To build a connected world
To be a leader in entertaining experiences
Identify your brand's values.
Once you have defined your brand's vision and mission, the next step is to determine its values. What is your brand's core value? What is the core belief system that underlies every aspect of your brand? These questions will help you determine your brand's behavior in the market and attract customers.
This is the final part of your brand strategy. Name and describe your ideal customers to complete it. Here are some examples:
Compassion and empathy
Passion and enthusiasm
Stamina and tenacity
Integrity and trustworthiness
Identify your brand positioning.
A well-planned brand positioning strategy can help you differentiate your brand from other brands in your industry and grab the attention of your target audience.
What makes your brand and your products and services unique in your industry?
What are the key differentiators, and how does it compare with other offerings?
How will your buyers perceive these differentiators, and how will they respond?
What will they think about your brand, products, and services?
To craft a brand positioning statement, use the answers to these questions: Audience will choose [product] to enjoy [benefits or outcomes] because of [audience's beliefs.
Your brand voice should be developed.
Your brand voice will guide how you communicate your values and mission. Your brand voice will ensure consistent messaging, from paid ads to organic social media content to emails, product descriptions, and customer service portals. It will help you build trust and relationships with your customers.
These are some questions that will help you get started.
What are you looking for in a brand name?
What adjectives would you like customers to use when describing your brand?
What would you describe as the personality of your brand?
What tone, words, and phrases would your brand use if they were a person? What would their message be?
Create your brand's identity.
To design your brand's identity, gather everything you have so far. Your brand's identity will encompass all sensory experiences, including the visual design, fonts and colors, your products' taste, smell, texture, voices, music, images on videos, and your brand name and tagline.
You can make subtle choices about font style, size, layout, and colors. Think of the potential effects of different elements on your brand's perception.
Represent the mission, vision, values, and brand promise
Correspond with your brand voice
Create the emotion you want your customers to feel
To finalize the brand's look and feel, it is a good idea for your creative team to collaborate with product and graphic designers.
This lecture by Branding: The Creative Journey specialization will give you more inspiration on how to design your brand's identity.
Your brand guidelines should be created.
Brand Marketing Strategy guidelines are a key tool for your business. These guidelines provide explicit instructions, parameters, and standards for how your brand will present itself to the world. A brand without clear guidelines can quickly become unorganized and dilute your message, which will, in turn, lead to a weakening of your business.
LucidPress's 2021 Brand Consistency Report shows that 68 percent of respondents to the survey said brand consistency had contributed 10% or more to their revenue growth.
The brand guidelines may list not only the physical elements of your brand's identity but also specify the following practices:
Your logo should be used in the following instances:
Themes include keywords, phrases, and tone.
Guidelines for editors
Options for website layout and social media
Display ads for paid
It might be useful to compile your brand guidelines into a single document, slide deck, or booklet that you can distribute to all employees in your company. This way, marketing staff, product developers, and creative teams can all ensure a consistent brand experience at every touchpoint.
What is a Brand Marketing Strategy?
A company's brand is what differentiates it from other brands. The brand is the company's personality, expressed through its identifying mark, logo and name, tagline, voice, and tone.
Some of the most well-known brand names in automotive, toys, food, and drink have been around for decades. Others have more than 100 years of consistent and recognizable branding.
There are three types of brands: personal, corporate, and company. These brands apply to individuals. No matter what type of brand you are, the rules of branding marketing still apply. Let's now talk about a brand and how to create one marketing strategy.
What's a brand-consumer relationship?
The brand-consumer relationship (also known as the consumer-brand relationship or brand relationship) is the relationship between a brand and its consumers. Do you have a solid or weak connection?
Is it a positive or negative connection? Is the brand functionally connected or emotionally invested? Strong, positive, and emotionally grounded brand relationships are the best. These connections turn buyers into brand advocates and not just one-time purchasers.
Why is Brand Marketing Strategy important?
As the marketplaces become increasingly saturated, branding is more essential than ever. It becomes more difficult to establish genuine relationships with consumers. Companies can tell their stories and give customers something to believe.
It creates curiosity and encourages customers to learn more about their brand. Branding is not about features and specs. It is about who a company is at its core.
Branding is about creating an emotional connection and making customers feel good about supporting the company. Successful brands create a lasting impression that helps customers build loyalty and advocacy over the long term.
What is brand equity?
Brand equity refers to the company's brand's value or how consumers perceive the brand. Substantial brand equity is based on how well consumers know the brand, how they prefer it to others, what level of connection they have with it, and their loyalty. Brands can innovate and grow their businesses through solid brand equity. This is possible with the help of their loyal consumers.
Brand equity can be measured using brand awareness, brand loyalty, and preference, as well as financial metrics.
Brand Awareness This is how consumers are made aware of a brand. It is determined through focus groups, surveys, social listening tools, and search and traffic insights.
Brand loyalty is measured by purchasing behavior insights such as repeat purchases and time between purchases.
Preferences are determined by insights such as purchase intention metrics and surveys.
Financial metrics refer to sales lift due to brand marketing campaigns.
It is important to have a strong relationship between brand and consumer to build brand equity.
What are brand attributes?
Brands have unique attributes, just like people have different combinations of personality traits. Consumers see attributes as part of a brand. These could include the brand's name, tagline, colors, or music.
Attributes can also be described as the feeling that a brand evokes. "feeling" attributes are authentic, reliable, honest, transparent, and reliable.